About Us
Local 435
Proactive in Rochester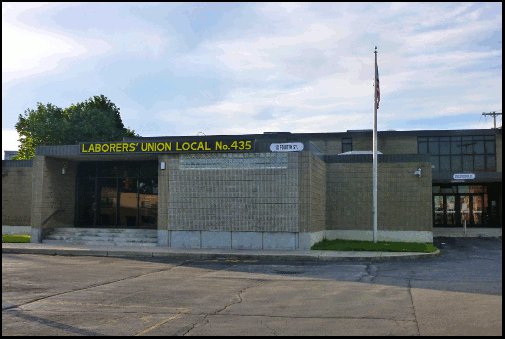 Since first receiving its charter on June 20, 1918, Local 435 in Rochester, NY has helped create and maintain one of the elaborate highway systems in the state; the "Can of Worms". From the beginning of excavation work to the final topping of the roadway, laborers worked steadily on this project. Local 435 covers 9 counties, Genesee, Livingston, Monroe, Ontario, Orleans, Seneca, Wayne, Wyoming and Yates.
Local 435 has been involved in projects designed to provide the community with electrical power and clean water. Two examples of this were the participation in building the Ginna Nuclear Power Plant in 1967, and the Van Lare Sewage Plant in 1971. Despite working at a near frantic pace, Local 435 members surpassed the rigorous standards of a nuclear project. More than 150 members built the Van Lare wastewater treatment plant, which provides sewage treatment services to the community of Rochester.
In addition to promoting infrastructure development in the Rochester area, Local 435 leaders have adopted a proactive approach to resolve the competitive bidding wars frequently seen on big projects.
Community volunteer programs, voter registration drives, and the education of potential members through the Rochester Careers in Construction Corps also keep Local 435 members focused on a shared progressive vision.
Local 435 Charity Foundation
Laborers' Local 435 Charity Foundation of Rochester Inc. is proud to announce that we will be donating all proceeds from this year's golf tournament to the Willie Bee Foundation. The Willie Bee Foundation is a 501(c)(3) not-for-profit charitable organization founded in August of 2017 to benefit local families who have a child facing a life-threatening illness.
Download:


brochurefinal.pdf
Out of Work List Guidelines
All members must call in and update their names on te Out of Work List every 14 days. The computer automatically removes your name from the list after the 14th day.

Page Last Updated: May 04, 2023 (07:57:00)